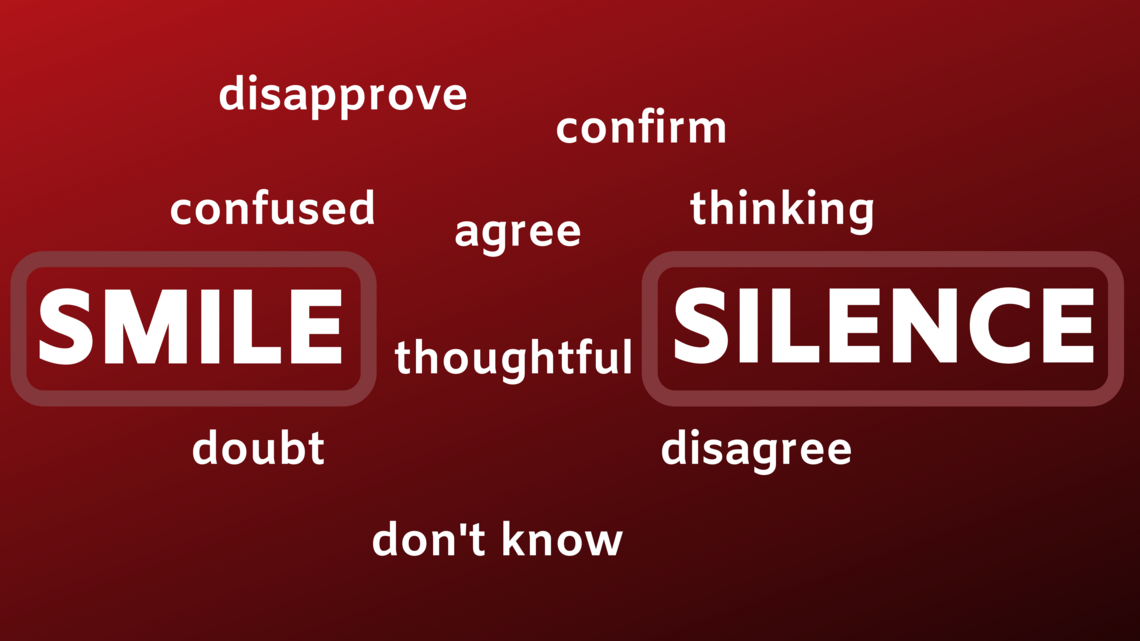 23.01.2020
Want an Eye-opening Experience in Your Cross-Cultural Work? Try out this Exercise!
In late 2019, C3's book 'Global Perspectives: A Practical Guide to Navigating Across Cultures' came out.
Written by C3's founder and CEO, Annette Dahl, the book is packed with hands-on tools and practical advice that can help you navigate cross-cultural situations and gain new perspectives.
Below, we're happy to share with you one of the tools from the book: an exercise that can enhance your awareness of how we might interpret the same thing in different ways. Enjoy :)
Exercise: Silence, Smile, Respect
Mary is an administrative coordinator for a Danish company in Shanghai. She's Chinese and her manager is Danish.
Whenever she received a new task from her manager, Mary would weigh up the possibilities to decide whether the task presented her with the risk of failure or the potential for success. If she thought that the risk of failure was a more likely outcome than the possibility of success, she decided that the best approach would be to stay silent and not do the task. If I do nothing, then the risk will be zero, she said.
After a few training sessions with C3 Consulting, the Danish manager became aware that Mary's silence was something he should listen to and that better follow-up was needed. He started to ask Mary what her next step would be whenever he handed her a task. And if the answer was indirect, it was a cue that he should explore, explain and be a bit more explicit.
This brings me to a group exercise that I'd like to introduce you to. It's called 'Silence, Smile, Respect', and it's intended to help participants realize that we can interpret behaviors differently.
We shouldn't assume that we all understand things in the same way – even something as simple as a smile.
Here's how you do Silence, Smile, Respect:
Write the word 'Silence' on a flipchart/whiteboard.
Ask the participants to use pen and paper to write down the word/phrase that pops into their head when they see this word. (They should keep this to themselves for now.)
Repeat this exercise for 'Smile' and 'Respect'.
Ask the participants to get into small groups and share what they've written with each other.
Bring them back together in a large group to revisit the first word 'Silence' and ask the participants to reveal their reactions to this word. (The results will often be quite diverse.)
Repeat this exercise for 'Smile' and 'Respect'.
There's quite a variation of responses each time we do this exercise – especially for 'Silence' and 'Smile'. Both these words tend to generate anything from: thinking, thoughtful, paying respect, doubt, confused, don't know, disagree, agree, confirm and disapprove. This reveals to participants that we have different perceptions of behaviors. Not that they didn't necessarily know this before; it's just not something we generally pay that much attention to or talk about.
During a recent global mindset training with C3 Consulting in Hungary, the participants came up with the following statements:
In Denmark silence is fine. No news is good news.
In Hungary silence is bad. No news is really not good news, we all know that.
Everyone laughed and the next step was to discuss in teams how to handle it. What's our strategy the next time we know that we don't know how silence is being interpreted?
So, when working cross-culturally, it's important to be aware that in some cultures, behaviors can have different meanings than you're used to.
Silence can be a coping strategy. Sometimes we smile even though we don't understand, the same with staying silent. We use a smile for a different purpose, and we stay silent for a different purpose. This doesn't necessarily have anything to do with culture; our interpretation can be influenced by our personalities, upbringing or personal circumstances.
Are there other words that you and your global team members frequently use with the assumption that you're all on the same page?
Then try the exercise with these words as well.
Here are some examples of words and phrases that are worth looking at from different perspectives: empowerment, alignment, transparency, proactive, trustworthiness, excellence, customer-centric, continuous improvement and agile – and there are many more.
Learn more about the book 'Global Perspectives: A Practical Guide to Navigating Across Cultures'
The exercise above is an excerpt from C3's new book 'Global Perspectives: A Practical Guide to Navigating Across Cultures'. The book is available on iMusic, WilliamDam.dk, Saxo, and various other online bookstores. Buy three books or more and get a discount of 10% – read more here.
The book's foreword is written by one of C3 Consulting's long-term customers, Mette Bjerrekær from Grundfos – read the foreword here.