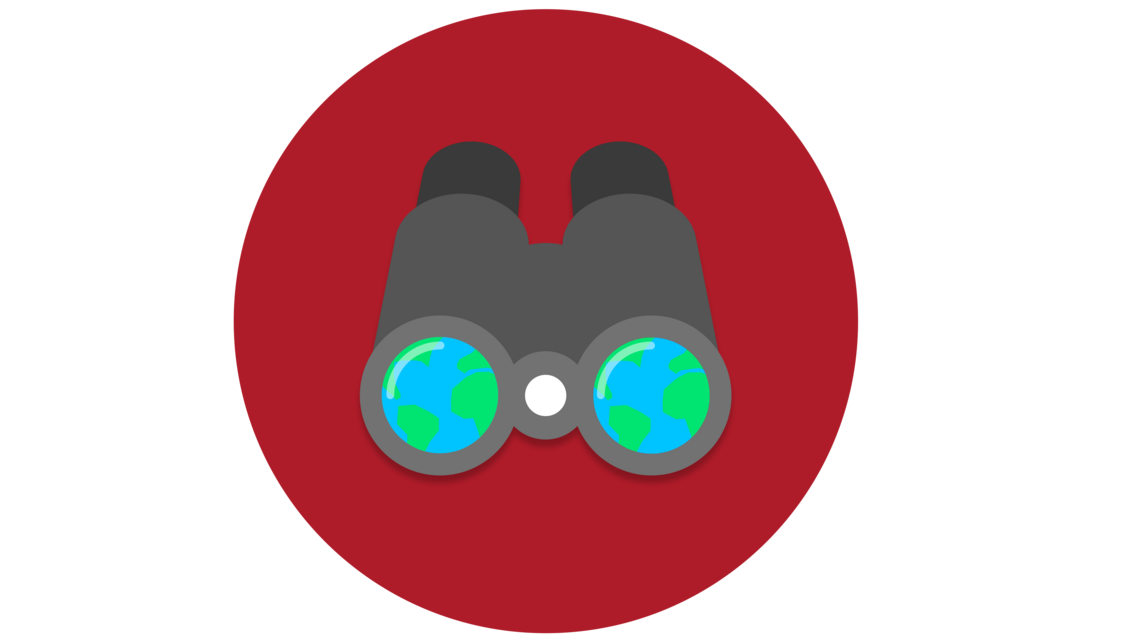 27.09.2020
9 Online Resources that Make You Smarter about the World
Free online resources that can strengthen your global mindset, sharpen your cultural self-understanding, provide you with knowledge about the countries of the world, pique your cultural curiosity, teach you a new language…
You'll find all that and much more right here! We've spent hour after hour searching, checking and testing a wide range of online resources to bring you the very best selection.
Read on to see how our top 9 online picks can make you wiser about the world.
1. Gapminder – Pick up all the nuances
Imagine that the whole world is one long street. The very poorest live at one end. And the very richest at the other end. The rest live somewhere in between. You can visit all the different homes on the street and see pictures of the homes from the inside and outside. And meet the families who live there and hear what they do and what they dream about.
This is how 'Dollar Street' works, created by the people behind the fact tank Gapminder that has (so far) visited 264 families in 50 countries and taken more than 30,000 photos along the way.
The idea behind 'Dollar Street' is to make abstract statistics about different income levels around the world concrete. To show how people actually live and work.
And that's Gapminder in a nutshell: Global statistics made easy for us to understand and use.
According to the people behind Gapminder, the media is full of dramatic, negatively angled and polarizing stories about global development, giving a distorted picture of the state of the world.
As an independent fact tank, Gapminder wants to put an end to that by spreading a more fact-based view of the world. Gapminder wants to show nuances rather than hard-hitting headlines. And to prove that most trends in the world are not black or white, but rather somewhere in between.
'Dollar Street' is just one of the many useful tools by Gapminder, which include interactive charts, videos, tests and free educational materials.
> Gapminder: https://www.gapminder.org
2. globalEDGE – Smart comparison tools
How does the income level, life expectancy and unemployment rate in your country compared to other countries around the world? How many have their own car? And how common is it to have access to the internet?
You can quickly find the answer to these questions – and many more – using globalEDGE's 'Country Comparator Tool', where you can compare up to 20 countries at a time in the areas of economics, population, infrastructure, education, health, etc.
There are plenty of online comparison tools out there, but this is one of the absolute best!
The 'Country Comparator Tool' is available on the globalEDGE knowledge portal, which is run by the International Business Center and Eli Broad College of Business at Michigan State University.
There's other useful knowledge to be gained on globalEDGE, such as more comparison tools and knowledge about countries, industries, trading blocks and markets.
> globalEDGE knowledge portal: https://globaledge.msu.edu
> Country Comparator Tool: https://globaledge.msu.edu/comparator
3 + 4. CIA's World Factbook and BBC's Country Profiles – A quick intro to the countries of the world
Have you got a partner in a country that you know very little about?
Then our advice at C3 Consulting is that you should always spend a bit of time getting to know the country's culture and social conditions, so you can:
Navigate more confidently in your new collaboration, because you have insights into what kind of community your partner lives in, and what differences and similarities there are in relation to your own society.

Get ideas for good topics of conversation so you can strengthen the relationship with your partner. Typically, it will be well received if you are interested in your partner's country, history and culture (but remember when asking questions, to do it in a culturally intelligent way – click here to see how).
A good place to start is the CIA's World Factbook and BBC's Country Profiles.
Start by looking up the country in the CIA's World Factbook.
You'll find key figures and other facts, for example, about the country's geography, economy and form of government.
Of particular interest is the section on 'People and Society'. In addition to statistics about population growth, ethnic groups, religion, life expectancy, etc., you'll find information about how many years of schooling a person receives on average, and how many doctors there are per 1,000 people.
Then look the country up in BBC's Country Profiles. Here you'll find a very brief profile of the country – how its society has developed over time and what it is like today.
If you have time for more, you can dive deeper and read more about the country's past and present:
History: Useful timelines in a shorter and a more detailed version
Media: Introduction to the country's media landscape and an overview of the most important media
News: BBC's recent news stories related to the country
> CIA's World Factbook: https://www.cia.gov/library/publications/the-world-factbook
> BBC's Country Profiles: http://news.bbc.co.uk/2/hi/country_profiles
5. Pew Research Center GLOBAL – How do we perceive ourselves and each other?
Knowledge of a country's key figures, social conditions and history is a useful foundation.
But what do people around the world think about the state of their country and about the direction in which things are moving? How do they perceive themselves and each other?
It's questions like these that the Pew Research Center is working to shed light on.
The Pew Research Center is a US-based fact tank that conducts opinion polls and other types of social science research. It puts emphasis on independence, thoroughness and complete transparency around its database and methods.
A large part of the fact tank's research focuses on the USA, but under its GLOBAL section you'll find analyses about global attitudes and trends.
A few examples:
Analysis from August 2020 of how people in 14 countries assess their country's handling of the Corona situation – based on questions such as:
How has my country handled the situation?
To what extent has the Corona situation affected my life?
Has the situation strengthened or weakened our national unity?
Analysis from April 2019 of how people in 27 countries view development in relation to diversity, family life and religion – based on questions such as:
How is my country's development in relation to diversity and equality between the sexes?
Does religion play a greater or lesser role than before?
Are family ties stronger or weaker than before?
Other studies focus on how people around the world view freedom of the press; the connection between good morals and religious practice; and the USA and China. And much more. Go and explore!
> Pew Research Center – Global Attitudes & Trends: https://www.pewresearch.org/global
6. Culture Trip – Sharpen your cultural curiosity
Culture Trip is actually a site targeted at culturally curious travellers. But even if you're not planning a trip, there's plenty of inspiration to sharpen your cultural curiosity!
Start by choosing a destination – it can be a single country or an entire continent.
Then you'll discover a goldmine of articles about that destination.
There is, of course, 'classic' travel inspiration about what to experience, where to stay and what to eat.
But, in addition to that, there are plenty of recommendations that you can use to explore that place from home – such as movies, series and books that originate from or are about the destination. All excellent sources if you want to dive deeper into a particular culture.
> Culture Trip: https://theculturetrip.com
7. Duolingo – Learn a bit of the local language to strengthen your relationship building
If you're going to visit a new global partner, you'll benefit from knowing a little bit of the local language. As well as making your everyday life easier, spending a bit of time learning the language will typically create goodwill and strengthen your relationship with your partner.
Duolingo is a good place to start.
With Duolingo, you'll find courses in a wide range of languages. Duolingo's mission is to make education easily accessible and free for all, and the platform uses gamification to make learning fun and motivating. You can access Duolingo from a browser and a mobile app.
Duolingo won't be enough on its own if you really want to master a language – especially if it's a language that's completely different from your own. But if you just need some phrases for small talk and travel, then Duolingo is an excellent tool.
> Duolingo: https://www.duolingo.com
8. The True Size Of – Become aware of different perspectives about the world
If you grew up in Western Europe or North America, you've probably come across a world map like the one you can find at The True Size Of.
We all know the Earth is round, while a typical world map is flat and square. Therefore, certain adjustments need to be made to make it all stick together.
The True Size Of shows a widely used way of doing this, known as the Mercator method. Here, it's the size of the countries that is affected. For example, Greenland and Canada look much bigger than they really are. At The True Size Of, you can drag the different countries around the map and see what their true size is in relation to each other.
There's a lot of discussion about the best method for creating a world map – you can read about it here and here. In addition to the size and shape of the countries, the debate is also concerned with which way round the map should be (in Europe, for example, you'll typically see maps where Europe is in the middle and north points upwards).
Even if you're not a map nerd, the world map discussion includes some important reminders if you work globally:
We always see things from a certain perspective. What perspective do you see things from in your work – when you communicate, solve problems or make decisions? And what other perspectives could your global colleagues have?

A map of the world is something completely different from the real world. The same goes for our knowledge of culture. Just as a map can be useful, general knowledge about different cultures can help us to navigate too. But remember to keep an open mind so you can adjust and refine your cultural knowledge if the cultural map has changed in the meantime!
> The True Size Of: www.thetruesize.com
9. Radiooooo – Music across time and space
Think back to the time when you visited a new country.
Even if you're well prepared and have read up about the country and immersed yourself in the culture, being there is something else. The air. The sounds. The new smells and tastes. All the new impressions that awaken your senses.
We can't offer air, smells or taste here, but we've found a little something for your listening pleasure called Radiooooo – the musical time machine that we're quite fond of!
At Radiooooo.com (which is also available as a mobile app) you can explore music across time and place. Just select a country on the world map and a decade (from the year 1900 onwards), and you'll immediately hear a music track from that time and place.
Some time/place combinations are missing tracks, but as a user you can provide suggestions to make the collection complete.
Enjoy!
> Radiooooo: http://radiooooo.com
What's your favourite?
Do you know any other good online resources that can make us smarter about the world? What's your favourite and why?
We'd love to hear about it!
Write to us at kontakt@c3consulting.dk – we look forward to hearing from you!
Do you want to become even smarter about the world?
Sign up for our newsletter using the form below