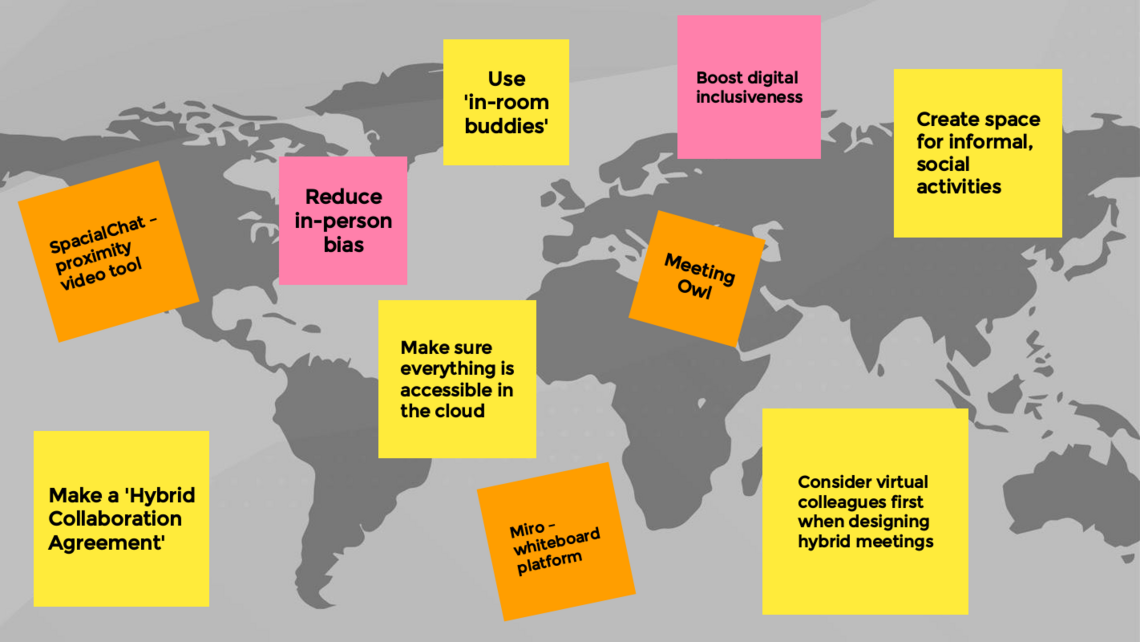 09.08.2021
Succeed in Your Global Hybrid Collaboration: 7 Quick Tips
Everyone's talking about it: Hybrid work.
As the Corona pandemic loosens its grip in some parts of the world, more and more employees are returning to the office.
And this might sound familiar: While some can hardly wait to come back full-time, others want to retain some of the flexibility of working from home that they've experienced over the past year and a half.
So, a lot of companies are facing the same challenge: How do we create the best framework for a new, hybrid form of work, where some employees are physically present in the office, while others work fully or partially from home?
And that's exactly the challenge that C3's specialist in virtual and hybrid collaboration, Line Mørkbak, has suggestions and solutions for in these 7 quick hybrid tips.
Line's advice focuses on a global business environment with offices and employees around the world. But if you don't work in a global team, it's still worth a read – because you can easily use the advice, even if you don't work across national borders.
1. Remember that hybrid collaboration is nothing new – and that now is the time to take it to the next level
First of all: Hybrid collaboration isn't new; we have experience to draw from!
Let's say you work in a global company headquartered in Denmark with worldwide subsidiaries.
Before the pandemic, most employees at the Danish headquarter were physically present in the office. As a rule, employees in local subsidiaries also worked at the company's offices around the globe.
But the connection between headquarters and subsidiaries was hybrid. So, for a typical video meeting in a global team, there would be some colleagues sitting together at the Danish headquarters, and some global colleagues participating virtually.
Today, employees from both headquarters and subsidiaries will alternate between coming into the office and attending meetings virtually.
My first piece of advice is: Use the new situation to take your hybrid collaboration to the next level!
And sooner rather than later.
Studies [1] from both the Danish and global arenas point in the same direction:
The attractive workplaces of the future are hybrid, as many employees want to maintain some of the flexibility they experienced during the pandemic. They want to spend fewer hours in commuter traffic and have more freedom to decide where and when they solve their tasks.
Does it take time and energy to make the hybrid way of working the new normal? Yes, definitely.
But the good news is, we already know what works! For the past 15-20 years, global first-movers have been testing and developing new, hybrid forms of collaboration, and many of them have done really well.
2. Make a 'Hybrid Collaboration Agreement' in your team
When you work together in a hybrid team, you need a 'Hybrid Collaboration Agreement'.
Together with your team I recommend that you discuss issues such as:
How do we create a new framework for our collaboration that's not centered around the physical office?
What new tools do we need that can support our hybrid collaboration?
Are there any days of the week where we agree that everyone is physically present in the office?
While collaborating virtually during the pandemic, you may have adopted the habit of booking a Teams meeting with a colleague for a quick discussion. And sometimes it will most certainly be necessary to book a meeting, but definitely not every time.
When working together physically, we just say to a colleague: Do you have 10 minutes sometime today so we can talk about that task? Just come by my desk when it suits you.
At the physical office, we're used to the fact that just because we meet, it doesn't have to be a meeting. There are many times we just grab a colleague for an informal chat.
And these spontaneous, informal interactions can certainly be done in the hybrid workplace. But you need to clarify in your 'collaboration agreement' when and how you can approach each other.
I recommend that you use an online platform where all team members can indicate where they are in any given week and how they can be contacted.
Then you can quickly go in and check: Well, Azim is at his home office this morning, so I can give him a call. And Pia is on the road now, so the easiest is to just send her a quick text or WhatsApp message.
3. Upgrade your toolbox: Think beyond Zoom and Microsoft Teams
When talking about hybrid collaboration, we need to include tools.
And you probably need to upgrade your toolbox!
During the pandemic, tools like Zoom and Microsoft Teams became a regular part of everyday life in many places. And they are excellent tools. But if you really want to succeed with your hybrid global collaboration, then you need to think more broadly.
When upgrading your toolbox, look for tools that can help reduce 'in-person bias' and boost 'digital inclusiveness' in your hybrid teams.
'In-person bias' is the often unconscious tendency to favor people who are physically present – both in the meeting room as well as those who are in the same office building as us.
It's simply a lot easier for Pia, Bent and Charlotte, who are physically sitting together, to express themselves at the hybrid meeting than it is for Azim, Martina and Ivan, who are joining virtually. And it's easier to remember to wish colleagues a good weekend if they're in the office rather than those we've not seen in the office that day.
'Digital inclusion' means that in hybrid collaboration, everything must be available digitally. It's the very foundation for all team members to be included and to be able to work across time and place.
A great place to start is to use tools that can enhance your hybrid meetings and make them more dynamic and accessible to everyone.
Hybrid first-mover companies have been using Meeting Owl for many years, an 'owl-shaped' video conferencing camera with a built-in microphone that you place in the middle of the table in the meeting room. The 360-degree camera automatically zooms in on the person speaking, while also showing a panoramic image of the entire meeting room.
It reduces technical hassles (e.g., having to get the camera into the correct position) and gives everyone an experience of being present in the meeting room – even those who are not.
You also need tools that show what you're working on together.
For example, you can use the online whiteboard platform Miro to display your tasks and processes. All team members can contribute from different locations and time zones, so you get a greater feeling of creating something together rather than feeling that you're each working on isolated sub-processes.
An upgrade on the tech front doesn't have to be expensive. The tools mentioned here are available at an affordable price or completely free.
The most important thing is that you start your tool upgrade now.
So, feel free to show this blog post to the relevant decision maker – your team leader or your IT department!
4. Consider virtual colleagues first when designing your hybrid meetings
Let's take a look at a hybrid meeting in a typical Danish-based global company before the pandemic:
Pia, Bent and Charlotte sit together in a meeting room at the Danish headquarter, while Azim, Martina and Ivan log in from India, Spain and Russia.
While the colleagues in the meeting room are chatting away, the virtual colleagues find it difficult to interact and feel as though they are spectators rather than meeting participants.
The unconscious in-person bias that affects the situation is exacerbated by language and cultural differences: The colleagues at the headquarter office are all Danish and they switch to speaking Danish once in a while to clarify a few things.

Over the years at C3 Consulting, we've often encountered exactly that kind of situation. No one at the Danish headquarter office wanted to exclude their global colleagues, they were just unaware of the imbalances in place.
There's an obvious opportunity to improve the new hybrid situation. If there have been imbalances in your hybrid teams in the past, then work consciously to create a fair and equal collaboration between colleagues around the world.
When designing your hybrid meetings, consider your virtual colleagues first.
This means, for example:
Virtual meeting participants should be able to easily see and hear everyone in the physical meeting room
If physical documents are distributed, be sure to have a PDF version ready or emailed in advance to the virtual participants
Consider using an online whiteboard that both virtual and physical colleagues can use to add their input – and project it on a screen in the physical meeting room
If you use a physical whiteboard, connect a camera so that virtual colleagues can easily contribute, for example, by writing in the chat – which one of the physical meeting participants reads aloud and another adds to the whiteboard
In addition to the technical-practical things, it's also about getting the colleagues who are physically present to constantly remind themselves and each other to involve their virtual colleagues.
You can do this, for example, by putting a chair with a name sign for each of the colleagues who are working remotely. You can also place a laptop that displays audio and video from each of the virtual meeting participants.
Play around with the possibilities and be a little creative!
Considering virtual colleagues first does not mean 'settling for the lowest common denominator' or 'punishing' those physically present.
A lot of people have missed their colleagues during the pandemic and are celebrating being able to be physically in the same building again. And it is indeed a cause for celebration. You just have to make sure that your virtual colleagues can join in the fun too!
5. Use 'in-room buddies' to ensure that virtual colleagues are heard
A simple method to ensure that virtual colleagues are involved in your hybrid meetings is to use 'in-room buddies'. You simply pair all virtual colleagues with someone who is physically present in the meeting room.
Let's say you're having a global team meeting and you're sitting with a bunch of colleagues in the physical meeting room.
Azim participates remotely and you're connected as his in-room buddy. You can see he's been on mute for a while, and you involve him by saying: Azim, I know you're on the road and have been on mute due to traffic noise, but is there anything you want to add?
It could also be that Azim WhatsApps you: Pia, I want to add something, but I don't want to interrupt. Tell me when I can jump in. And when the timing's right, you can give Azim the floor.
It's a very effective method of preventing in-person bias because the colleagues who are physically present are given the personal responsibility of ensuring that virtual colleagues are not forgotten.
6. Make sure everything is accessible in the cloud
'Digital inclusion' means that everything must be digitally accessible. As a natural result all your work, regardless of location, is accessible and 'lives in the cloud'.
If you jot down a good idea and put it in your office drawer, how can you access it if you work from home the next day?
And if you and your colleagues at the head office wrote a few ideas on the whiteboard this morning, you can just slip into the meeting room to see them again. But what about your virtual colleagues?
To put this into focus:
If you've had a breakthrough during a brainstorming session in the office but have not uploaded the results to the cloud – it becomes invisible, and that piece of work does not exist!
The resources in your hybrid team that are not available digitally are not really resources for the entire team.
When you hold physical meetings, you can of course write old-fashioned minutes or record the meeting and upload it to the cloud. But writing minutes can be such a waste of time. And who actually listens to the recording?!
Fortunately, there are smarter ways to do that.
If you use a physical whiteboard, you can for example use Beacons, which are small plastic triangles that form a frame around what is written on the whiteboard. Then, using an app, you can take a picture of the entire whiteboard, which is then automatically uploaded to the cloud.
You can also use Whiteboard Owl, a dedicated whiteboard camera that records all the activity on the physical whiteboard and shares it with virtual participants.
A simple upgrade of your meeting rooms should not only include whiteboard pens, but also Beacons and possibly a whiteboard camera.
7. Create space for informal, social activities
It's a fact that the loss of interaction among colleagues has been one of the biggest challenges during the pandemic. There have been plenty of video calls, but they are no substitute for a spontaneous talk at the coffee machine or friendly lunches in the canteen.
The employees who are returning to the physical offices are easily falling into old habits: We have fun with the colleagues who are present in the office building – while colleagues who work from other places risk being forgotten. Out of sight, out of mind.
When working in hybrid teams, it's important that you create a framework for informal social activities where everyone can participate.
Maybe you dedicate an hour on Thursday afternoons, where you enjoy coffee and cake in the canteen. So, make sure your virtual colleagues have something delicious to eat too for the informal chat. And choose a digital tool that suits the occasion.
For example, you can use SpatialChat, which is a lot more informal, fun and relaxing than platforms such as Zoom and Teams.
Instead of the square row of screens, SpatialChat is designed with circles and flow, and you can create your own cozy atmosphere. For example, you can choose to have a background image of a café or lounge area for your weekly 'coffee chat'.
When you connect with audio and video, colleagues can move around using their own 'video avatars'. When you approach someone, sound and image follow, so you can talk together in small groups.
You can also insert a link to music and the music gets louder or softer depending on how close you are to the link. (A bit like standing at the bar with loud music or choosing to sit a little further away to have a quieter conversation.)
Everyone moves around freely and there's no chairperson who decides when and who goes into breakout rooms. Everyone is on an equal footing in a very informal setting.
There are lots of other great tools for virtual, social activities, so give it a try and feel free to experiment!
And when you need to do something informal together in your hybrid teams, ask yourself: Is it engaging for the team members who are working remotely too?
If the answer is no, then you need to redesign your activity.
Can we help you succeed in your global hybrid collaboration?
Book a two-hour workshop with C3's expert in this field, Line Mørkbak, where you'll work on strengthening your global hybrid collaboration. Read more about the workshop here.
We also offer longer training programs and advice on global hybrid collaboration. Contact us for more information.

---
References
[1 ] Studies that shed light on the future of hybrid and virtual work from different perspectives:
McKinsey Insights: What executives are saying about the future of hybrid work. Published 17.5.2021.
McKinsey Insights: What employees are saying about the future of remote work. Published 1.4.2021.
Buffer: The 2021 State of Remote Work. Based on data collected between 14.10.2020 and 4.1. 2021.
Eurofund (European Foundation for the Improvement of Living and Working Conditions): Living, working and COVID-19 data. Published 11.5.2021.
Finanssektorens Arbejdsgiverforening (FA): Ny undersøgelse: Tæt på 750.000 danskere ønsker udbredt hjemmearbejde efter genåbning. Published 23.4.2021.