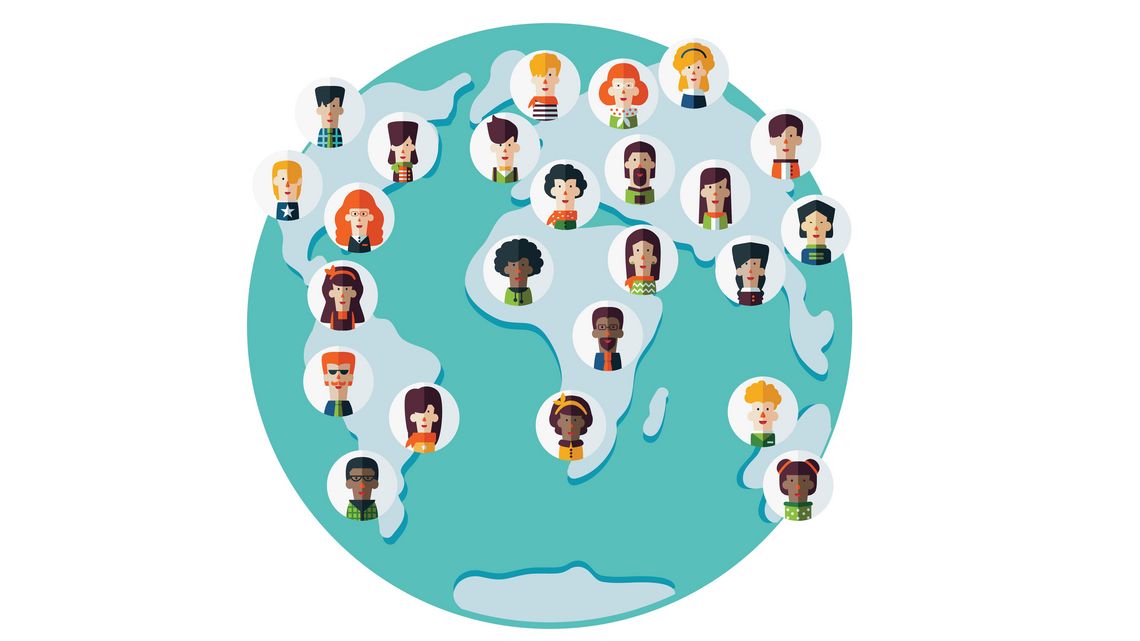 18.11.2019
7 Smart Tools That Can Boost Your Virtual Collaboration
Is collaboration in virtual teams an everyday part of your work? Or do you manage employees who work in different locations to you? If so, read on to get an overview of 7 virtual tools that make it easier to build relationships, share information and work effectively from a distance.
Long-distance collaboration is part of an increasing number of people's working lives.
And it's a development that often creates challenges.
Because how can you get to know your colleagues when you rarely, or maybe never, meet face-to-face? And how can you communicate effectively with each other without drowning in emails or being bored stiff by hours of video conferencing?
Our own company, C3 Consulting, was born virtual since we chose from the start not to have a physical office and instead work virtually with our global network of trainers, employees and interns who are based in- and outside Denmark.
That's why we're always on the lookout for new methods and tools that can boost our virtual collaboration. This autumn, together with Line Mørkbak, one of C3's experts in virtual collaboration, we tested a wide range of virtual collaboration tools.
And, of course, we'd like to share these results with you :)
So below you'll find an introduction to 7 of our favourite tools, as well as some input on how each one could boost your long-distance collaboration.
Trello – Create a shared overview of your projects
We start with Trello, which is based on a kind of virtual message board, which can help you and your colleagues organize even the largest of projects.
If you're not in the same place or even in the same time zone, it's easy to lose track of what the others are doing and how far each of you are in the process. You might also have a feeling of being isolated from each other, rather than being part of an overall team.
Trello's virtual bulletin boards can help you and your team maintain an overview and strengthen your sense of belonging at the same time.
You can create cards for each project on your project bulletin board. The cards are like 'virtual sticky notes' where, for example, you can see who's working on a task and how far they've come with it. You can also comment on the tasks and archive the cards once you're done with them.
The free version of Trello is quite comprehensive and could comfortably meet the needs of virtual teams. It's a flexible tool that's easy to use from the get-go, and you can download it to your desktop and your smartphone.
> Link: https://Trello.com
Zoom – Hold professional video conferences and webinars
Regardless of who you work with virtually, video conferencing is hard to avoid.
Video conferencing tends to have a bad reputation. You might have participated in online meetings that you thought were superficial, dead boring and actually a waste of time.
But it doesn't have to be like that. When online meetings go wrong, it's often because the right framework for these types of meetings has not been set, and they're used for the wrong purpose. (If you want to know more about that topic, read our blog post here.)
With the right framework in place, video conferencing can be an excellent tool in virtual collaboration where, for example, you can put a face to a name and strengthen your relationships.
Zoom is pretty much the perfect tool that you can use for both online meetings and webinars. There are lots of useful features such as screen sharing, chat function, attendee overview, as well as the possibility of recording a call or dialling in by phone.
Zoom works seamlessly across borders as well, and as long as you have a good internet connection, you can conduct your virtual meetings without having to worry about technical issues.
If you just need an online meeting tool, the free version of Zoom will cover all your needs. The more advanced features that would allow you to, for example, create webinars require a payment subscription.
> Link: https://zoom.us
Sococo – Build relationships in your shared virtual office
Most people would agree that good relationships between colleagues are an important foundation in any team or organization.
This is even more true if colleagues are scattered across the globe – with many of their colleagues based in countries where building relationships and trust are crucial to good collaboration.
But how do you build relationships when you're thousands of miles apart and the budget doesn't allow for you to meet face-to-face?
This is where Sococo comes to the rescue!
Imagine you have a beautifully furnished corporate office with various meeting rooms and offices, and a kitchen, coffee machine and lobby. That's what Sococo offers, just in a virtual version.
When you use Sococo, you see your virtual office from above.
You can see your colleagues and where they are in the office. If you're in the same room as some of your colleagues, you have the option of turning on your camera and microphone, and then automatically switching to an online meeting. You could use it for 'regular' virtual meetings where you have an agenda or a presentation, but you could also meet informally over a cup of coffee on the sofa and talk about your plans for the weekend.
With Sococo you get the feeling of being in the same place. For example, you could agree in your virtual team that you log on to Sococo at the same time once a week and work side by side, as you would if you were physically present in the same building. You can give each other a 'knock' if you have a quick question, or you can meet on the sofa for a chat so you can get to know each other better.
In other words, Sococo is a really useful tool for building long-distance relationships.
Sococo doesn't have a free version, but it offers a 14-day free trial period.
> Link: https://www.sococo.com
Miro – Visualize your work processes
Just as you can use Trello as a kind of 'virtual bulletin board', Miro can act as your 'virtual whiteboard'.
Many companies operating globally have English as their company language. In practice, this means that, if you work in global teams, a lot of the team members will not be working in their own native language. And while it is often overlooked, the linguistic challenges can be major barriers to effective communication.
Therefore, it can be an advantage to supplement the spoken and written word with visual elements, and this is where Miro comes into the picture.
Miro's whiteboards give you a wide range of opportunities to visualize processes, projects and much more. There's a broad selection of templates that you can use, for example, for mind mapping, brainstorming, project planning or customer journey mapping.
Like Trello, Miro can also boost your collaboration, in that you can each contribute from your various locations and time zones, giving you a greater sense of co-creation rather than feeling that you're all working on isolated sub-processes.
Miro has a free version that includes three whiteboards that you can customize as you wish. It takes some getting used to, but once you do, Miro opens up a wealth of opportunities.
> Link: https://miro.com
Retrium – Evaluate and reflect together effectively
Evaluation is as important in virtual collaboration as it is in face-to-face collaboration: What have we learned? What could we use, moving forward?
In Retrium, these are called 'retrospectives'.
With Retrium's retrospectives, you and your colleagues can look back on, for example, a process, an event or a project and reflect on how you could use what you learned to improve your work in the future.
Retrium has templates for the most widely used retrospectives, such as 'What went well, what didn't go well' or 'Liked, Learned, Lacked, Longed for', but you also have the opportunity to design your own retrospectives.
Retrium is very flexible and it's easy to get started. It offers a 30-day free trial period.
> Link: https://www.retrium.com
Slack – Create a unified platform for your virtual collaboration
Slack is the focal point for you and your virtual colleagues, and for all the tasks and projects you're working on.
Instead of you all having your communication in your email inboxes, Slack allows you to organize your communication into channels.
You have access to all communication in each of the channels you choose to subscribe to, which provides a really good overview.
It's also easy to share files in Slack, and you can integrate a lot of other virtual collaboration tools with the platform. For example, you can integrate Miro to help you visualize your processes, Trello for planning projects, Zoom for video conferencing, and Doodle for scheduling virtual meetings.
This means that Slack can act as a unified hub for your virtual collaboration.
Slack has a comprehensive free version that allows you to integrate with 10 other virtual collaboration tools as well as the opportunity for one-to-one online calls.
> Link: https://www.slack.com
Microsoft Teams – Chat and collaborate with your team
Microsoft launched its new software, Microsoft Teams a few years ago, which is a strong competitor to Slack.
Teams makes it easy, for example, for virtual team members to chat with each other. In fact, the chat function is a communication channel that can be really useful in virtual collaboration, as your everyday communication can be quicker and less formal compared to email.
The chat function is the main feature of Teams, but there are other options, such as making online calls and getting a quick overview of your calendars.
Teams is, as mentioned, a competitor to Slack, so there's a lot of overlap between the two tools. If you have an Office 365 account with a license subscription to Office 365, Teams will automatically be connected to your account. If not, there's a free version that you can use without the need for an Office 365 license subscription.
> Link: https://products.office.com/en-us/microsoft-teams/group-chat-software
Want more inspiration on how to boost your virtual collaboration?
Read our blog post on 3 assumptions you should challenge if you want to be successful at virtual collaboration.
In C3 Consulting's new book 'Global Perspectives', our virtual collaboration expert, Line Mørkbak, dedicates an entire chapter to virtual collaboration, which is full of practical tips and techniques for those collaborating over distances. You can find the book at iMusic, Saxo, WilliamDam.dk, and many other online bookshops. You can get a 10% discount by ordering a minimum of three books – you can find more details here.
Could we give your team / organization's virtual collaboration a boost? Read more about C3 Consulting's opportunities for customized training in distance management and training in virtual, global collaboration.