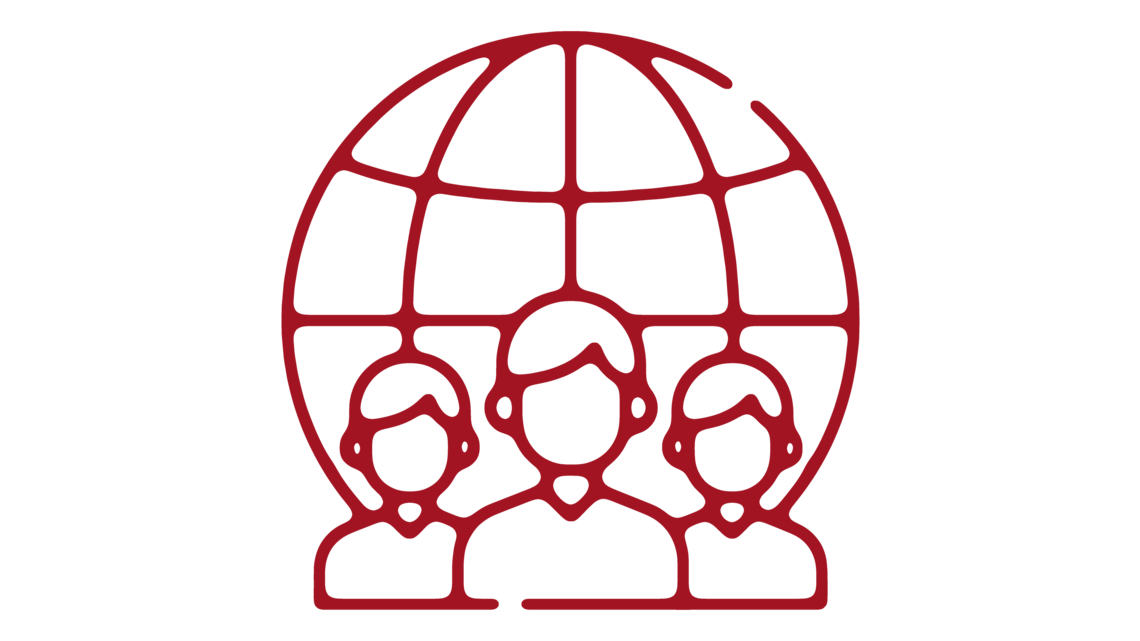 20.04.2020
6 Suggestions for How You Can Strengthen Your Cross-cultural Capabilities During the Corona Crisis
Dear reader,
No matter where you are in the world, you have probably been affected by the Corona crisis in one way or the other.
Maybe your only focus right now is how you will tackle all of the challenges in your new daily life. In that case, we are sending you our best wishes.
If you have more time and energy, we've collected a few suggestions on how you can strengthen your cross-cultural capabilities during this Corona period.
1. Explore virtual collaboration tools that can benefit you after the Corona crisis
Maybe video meetings have already become a regular part of the workday for you and your colleagues. But good virtual collaboration consists of much more than video meetings. Why not use the time to explore other virtual collaboration tools that you'll be able to benefit from in the future?
There are a lot of useful virtual tools out there you can use to, for instance, organize, visualize, and evaluate your projects. Or to create a "virtual version" of your usual office space with meeting rooms, coffee machine, and lobby :)
In this blog post we present you with 7 tools that can strengthen your virtual collaboration. Several of them have a free version.
2. Build relationships with your colleagues and business partners around the world
In many cultures, personal relationships are an important part of professional life – and often more important than it is at a typical Danish workplace. If you work from home and have a little extra time right now, it can be a good opportunity to strengthen your relationships to colleagues and business partners all over the world.
Maybe you are accustomed to having your long-distance collaboration take place over e-mail and video meetings, and you are focused on getting tasks done and quickly moving along.
You should challenge these habits. The less often you meet face-to-face, the more important it is to work on the relationship.
More informal communication channels like chat forums and social media can be useful when you are building up relationships. It's a great idea to install the apps on your phone, so you can send a quick message whenever it suits you.
Or make an old-fashioned telephone call to a colleague on the other side of the globe – just to "check in" and hear how things are going.
As you and your global colleagues get to know each other, you also build up the trust that is key for avoiding misunderstandings and creating results at a distance – now and in the future.
Would you like more tips for how you can build up relationships at a distance? See our new video blog post here.
3. Fill up your cross-cultural toolbox by reading C3's book 'Global Perspectives'
Corona time is a great time to read. And we can recommend C3's own book, 'Global Perspectives: A Practical Guide to Navigating Across Cultures' :)
The book is full of practical advice and simple tools you can use to navigate in all types of cross-cultural work situations.
Here's a review of the book we recently received from René Jensen Nystrup, Vice President and CFO at Vestas:
"What a book – it's superb reading over a nice weekend with a few cups of coffee and a couple of glasses of good wine :) Well done, I must say – I really think it's a well-written work that covers many interesting and relevant aspects extremely well.
Chapter 6 about the combination of culture and virtual communication has never been more relevant. Of course, even more so now due to Corona, but also despite this. I still think that this is a super interesting area where we've still got a way to go when looking across many teams and many companies."
Want a free chapter from the book? Then sign up for our newsletter here!
You can buy the book from many online booksellers, such as WilliamDam and Saxo.
If you live outside of Denmark, you can buy the book via iMusic, which sells and delivers to anyplace in the world.
You can read more about the book and what others say about it here.
4. Strengthen your cultural intelligence with more good books
Are you hungry for more books that can help you strengthen your cultural intelligence?
We've collected a handful of recommendations in this blog post.
There are books in both Danish and English.
And there are books both for people who want to explore the full potential in cultural differences, and for people who just want a quick overview of cultural similarities and differences around the world.
5. Organize your virtual communication flow so everyone has a chance to speak
This suggestion is particularly important for you if you are managing at a distance.
Whether you have several years' experience with distance management or are new to the field, stop and think: using our current method of virtual communication, does everyone get a chance to speak?
If you have employees around the world, there are often cultural differences you should be aware of.
In a Danish context, we might expect that your employees will deliver input to video meetings even when you as a manager are part of the meeting. But employees in many other parts of the world will see it as risky to offer input in front of such a large group, particularly when the boss is present.
So when you choose your virtual communication channel, ask yourself if the goal is primarily to deliver INFO (where you offer information to employees) or to get INPUT (where you want employees to give you input, share knowledge, give feedback, etc.)
It's fine to deliver INFO to a large group of employees, for example in a video meeting.
But if you want INPUT, create a context where your global employees feel safe. You can do this by dividing your employees into smaller groups and then allow them to come with their input as a group, so it can be communicated as "we suggest" instead of "I suggest."
Read about the background for these cultural differences and learn several methods for making sure that everyone gets a say in this article.
6. Book an online cultural workshop or coaching session
If you or your team need training, feedback, or advice about your cross-cultural work, we're happy to help!
We can deliver all types of training to you in a virtual version.
Here are some examples:
A 1-hour one-to-one coaching session on how you can strengthen your management at a distance
A 3-hour workshop in virtual collaboration for your global team
A process with two mini workshops focusing on how you can work best with business partners from a specific culture or region.
If there is something we can help with, send us an email at kontakt@c3consulting.dk or call/text +45 6017 0817.
We are here for you now – and we'll also be here for you on the other side of the Corona crisis.
Take care of yourselves and each other.
Best wishes,
The C3 team