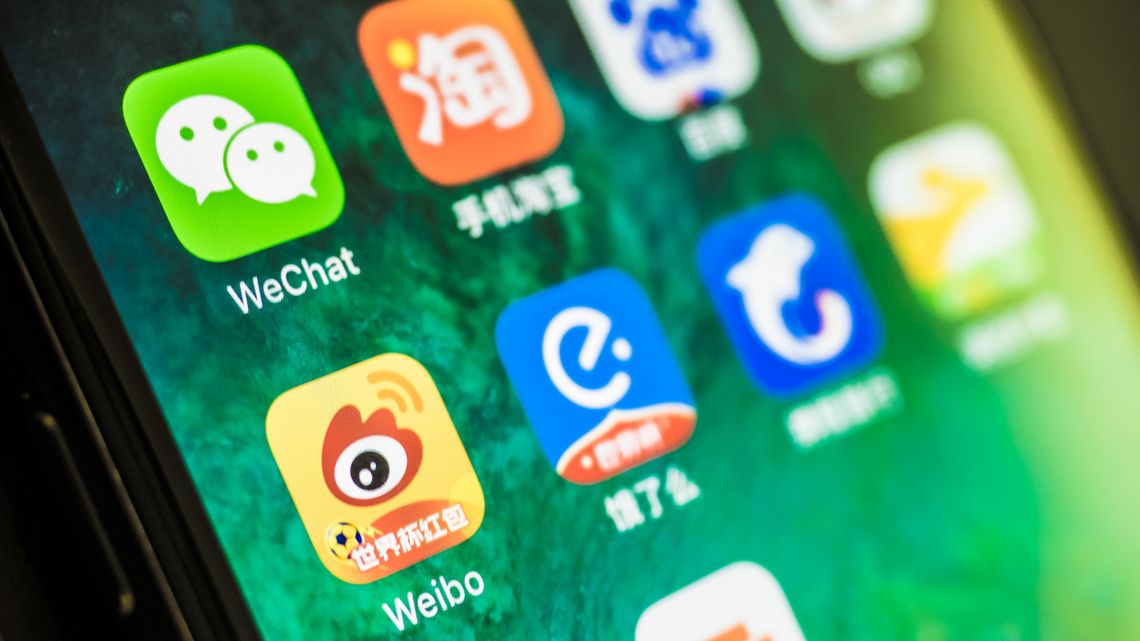 02.03.2020
Living and Working in China: Useful Apps and WeChat Resources
If you are moving to China or working with Chinese business partners, you will probably learn how important apps are in China.
As in most countries, smartphones are a big part of Chinese people's daily life, but in China it can even be difficult to get through your daily routines without using at least a handful of apps. This especially applies to WeChat, the most important of all apps in China, and a so-called super-app, that serves a multitude of purposes.
In this blog post, we have collected what we think are the most useful apps for living and working in China, so the post is especially relevant for expats in China.
However, if you are working with Chinese colleagues or business partners but you are based outside of China, this post is also relevant for you, as we highly recommend anyone working with Chinese counterparts to create a WeChat profile (check out our blog post here to find out why we recommend this).
This blog post is the last of a series of two. If you want more inspiration, make sure to take a look at the first blog post of this series, with 35 useful links for people living in China, working in China or working with Chinese business partners.
The two blog posts were written by Annette Dahl, C3's CEO and chief trainer, who has trained hundreds of executives, employees, and expat families for working with or in China, Maria Pastorelli, a Shanghai-based C3 trainer and China Country Specialist, and Rasmus Sehested Thormann, MA student in China studies.
For this blog post, we have also had the pleasure of working together with Rasmus Bengtsen and Niels Christian Flintholm, both partners in Leaf Digital, a global digital agency specialized in optimizing digital businesses in China as well as the West. We also want to thank the Danish expat families who have provided us with valuable input on relevant WeChat Groups for Danes in China.
---
Intro to the Different Types of Resources in this Blog Post
When talking about apps in China, it's impossible not to mention WeChat.
WeChat is a "super-app" – an app that serves multiple purposes, which you would normally need several apps to cover. Therefore, we have included 4 different types of resources in this blog post; ordinary apps, WeChat Official Accounts, WeChat Groups and WeChat Mini Programs. If you are new to WeChat, or if you need your WeChat skills brushed up, we recommend that you read the following introduction to this super-app and its Official Accounts, Groups and Mini Programs.
WeChat
WeChat is first and foremost a social media app. It is the preferred channel for daily communication for most persons in China, and if you are moving to China, or just working with Chinese business partners, getting a WeChat account is the best way to ease your communication in professional as well as private life.
How to get started with WeChat
Find the app in App Store for iPhone users or Google Play for Android users (or find the direct download link on WeChat's webpage).
Sign up by doing as indicated in the app.
Now you should be ready to get to know WeChat, and you can start exploring the different opportunities. Below we will briefly introduce you to how to follow Official Accounts, how to join Groups and how to use the Mini Programs. If you want to learn more, a simple search on Google will provide you with a ton of guides.
WeChat Official Accounts
WeChat Official Accounts are accounts run by individuals or organizations. It is quite similar to a Facebook Page, and it is meant to distribute information, articles or promotional material to the followers of the Official Account.
In order to follow a WeChat Official Account, start by going to the Discover tab. Here you can either scan a QR code or simply use the search function to find the WeChat Official Account you wish to follow. Choose the Official Account, click follow and agree to the conditions, and you should now be following the account.
WeChat Groups
WeChat Groups are simply group chats for people who discuss or share information on a specific topic. It can be anything from a small group for you and your team colleagues to a larger group for, for instance, all Danes in Shanghai.
If you want to join a WeChat Group, you will need someone else to invite you. You can't find WeChat Groups by yourself, but members of a group can invite you, either by sharing a QR code (only if the group has less than 100 members), or by inviting you directly. We recommend that you ask your network in China and in the specific city you live in what WeChat Groups they are members of.
WeChat Mini Programs
Other than WeChat Groups and Official Accounts, WeChat also has the Mini Programs, which are best described as in-app apps. As most WeChat Mini Programs are in Chinese, we have only included very few in this blog post, but if you are interested in learning more, this article from China Channel introduces 10 of the best Mini Programs out there.
Other Apps
Although WeChat is important, it is far from the only relevant app in China, so we have also gathered a range of other apps with different functions. We have almost exclusively included apps available in English, as Chinese-only apps won't be relevant to most of our readers. If you are interested in apps available in Chinese, this article from What's on Weibo lists the most popular Chinese apps of 2019.
---
Communications and Social Media
The Most Important One
Type: App
We have already covered most aspects of why you should use WeChat and how to get started. Now all there is left is for you to sign up for the app.
Chinese Microblogging
Type: App
Sina Weibo, or just Weibo in daily speech, is a microblogging platform like Twitter. Weibo both has a Chinese-language version (Weibo) and an English-language (Weibo intl.).
---
China News and Insights
English News from China
Type: WeChat Official Account
China Daily was included in our blog post on 35 useful links for China, as it is one of the primary sources for English-language news from China. They also have a useful WeChat Official Account, that can keep you updated while on the move.
Alternative News
Type: WeChat Official Account
Sixth Tone is a great news publication with alternative news, and they have an Official Account you can follow to get the news delivered daily on your smartphone.
---
Language
Dictionary
Type: App
Pleco is simply the best English-to-Chinese (or Chinese-to-English) dictionary in app-form. Search on either English or Chinese words and you'll get suggestions for translations.
Translation
Type: App
With Baidu Translate, you can either use your camera to translate Chinese texts, or you can use the app for oral translation. For example, if your cab driver doesn't speak English, you can talk to each other through this app.
Learn Mandarin
Type: App
If you have an appetite for learning Chinese, ChineseSkill is a great place to start. ChineseSkill makes you practice oral Chinese, as well as listening and reading. It is fun to use, and you can take tests to check whether you've practiced enough or if you need to retake some lessons.
---
Tools for Your Daily Life
The VPN
Type: App
Just as we wrote in our former blog post, a VPN is the inevitable reality for most expats in China. ExpressVPN is definitely recommendable, but Astrill VPN is also among the very best.
Paying with Your Smartphone
Type: App
Alipay will get you a long way in China, as it's becoming more and more uncommon to pay with card or cash. Most people nowadays use their smartphones for paying, and some vendors use it as the only option.
Air Quality
Type: App
The air quality in Chinese urban areas can sometimes be quite poor, especially during winter. Air Matters provides a forecast for the air quality as well as advice for your health, for an example whether you should wear a mask or avoid outdoor activities.
---
Getting Around
Navigation
Type: App (only works with a VPN)
Chinese cities are HUGE, so an app for navigation is a must-have. Google Maps is really detailed, but it only works with a VPN connection.
Subway Maps
Type: App
ExploreMetro equips you with a map of a city's subway system – and it is also accessible with no internet connection! At the moment ExploreMetro has apps for Beijing, Shanghai, Guangzhou, Shenzhen, Taipei and Hong Kong.
Public Transportation
Type: App
Moovit is another great app for public transportation. Based on your desired destination, it will provide you with the fastest route and the most favorable means of transportation, whether it is walking, bus-riding, or getting on a train.
Taxis
Type: App
Didi is THE app for getting a taxi in Chinese cities. The English version is called "Didi – Greater China".
---
Shopping, Food and Health
Shopping on Taobao Platforms
Type: WeChat Official Account
Baopals is an English Taobao agency that helps you shopping on Taobao's platforms, which are mostly in Chinese. Shopping on these platforms can really ease your daily life in China, and therefore Baopals is a great asset.
Second-hand Shopping
Type: WeChat Mini Program
Movin is a platform for second-hand buying or selling on WeChat.
Food Delivery
Type: Apps
Sherpa's Food Delivery Service is a useful app for food delivery in several Chinese cities. Simply order through the app, and the food will be delivered to your doorstep. Ele.me is also one of the better apps for food delivery in China, and although the app only has a Chinese version, it is quite easy to use as it has helpful pictures.
Fitness Classes
Type: WeChat Mini Program
Fitfam is a great Mini Program for free community driven fitness classes. Choose your desired form of exercise and find free classes that suit your needs.
---
Expat Resources
Guides for Expats
Type: WeChat Official Account
This Official Account is a great resource for your life as an expat in China. GiCexpat (GuideinChina expat) publishes guides, articles, practical information for expats in China and they also post job offerings for expats.
Problem-solving for Expats
Type: WeChat Official Account
AnyHelper brands itself as "China's best problem-solving service for foreigners", and the Official Account an indispensable resource for expats as they provide a wide range of tips and advice for expats in China.
---
Professional Life
Job Searching
Type: WeChat Official Account
JobsCINA is one of the biggest job platforms on WeChat, and they post a long range of job offerings daily.
For Entrepreneurial Women
Type: WeChat Group
The WeChat Group Global Women Entrepreneur Network (G.W.E.N.), created by Shanghai-based C3 trainer and China Country Specialist Maria Pastorelli, is for entrepreneurial women all over the world. If you wish to join this group, add Maria on WeChat by scanning the QR-code that you find by clicking here and write her a message – then she will make sure to add you to the group.
Professional Networking
Type: App
In China, LinkedIn is also among the preferred social media platforms for professional networking, so make sure to utilize its app for successful professional networking in China.
---
Travel
Booking Tickets and Hotels
Type: App
If you get the chance, travelling around China is a wonderful experience. Whether you want to travel by flight or train (which is highly recommendable), you can use Trip.com to book your tickets and hotels.
Travel Guide
Type: App
China Travel Guide is an elaborate travel guide to China. It has many thorough descriptions of attractions, and it can provide you with insights and fun facts on your trip through China.
---
WeChat Official Accounts for Specific Cities
Beijing Media Publications on WeChat
Type: WeChat Official Accounts
The Official Accounts of TheBeijinger, TimeOutBeijing and That'sBeijing is recommendable resources to follow on WeChat if you want to stay updated with what's happening in the city.
Shanghai Media Publications on WeChat
Type: WeChat Official Accounts
As an expat in Shanghai, you should follow the Official Accounts of That'sShanghai, TimeOutShanghai and SmartShanghai, as they will provide you with valuable updates from the city. The newspaper SHINE is also a great source for news from Shanghai.
Suzhou Media Publication on WeChat
Type: WeChat Official Account
In order to stay updated in Suzhou, follow the iSuzhou Official Account on WeChat.
---
Resources Specifically for Danes
We highly recommend that you find WeChat Groups or Official Accounts that suit your specific needs. There are a ton of Groups and Official Accounts out there, also specifically for Danes, and it is a good idea to ask your network if they know of any relevant groups that they can invite you to, or if they have recommendations for informative Official Accounts.
Here is what some Shanghai-based families recommend as essential WeChat resources for Shanghai:
CCC Shanghai (WeChat Official Account)
Danskere i Shanghai (WeChat Group)
Danske kvinder i Shanghai (WeChat Group)
---
Please Share Your Input!
Did we miss something? If you know of a great app or a WeChat-resource for expats in China or for people working with Chinese colleagues or business partners, please email us at kontakt@c3consulting.dk. We appreciate your input!
Want to Get More Resources and Inspiration for Working and Living Globally?
This blog post is the second and last of a two-part series on resources for expats in China and people working with Chinese colleagues or business partners. The first blog post focused on useful links, and you can read it here.
Want more inspiration on working and living globally? Sign up for our newsletter here.
Check out our Chinese Cultural Training Programmes