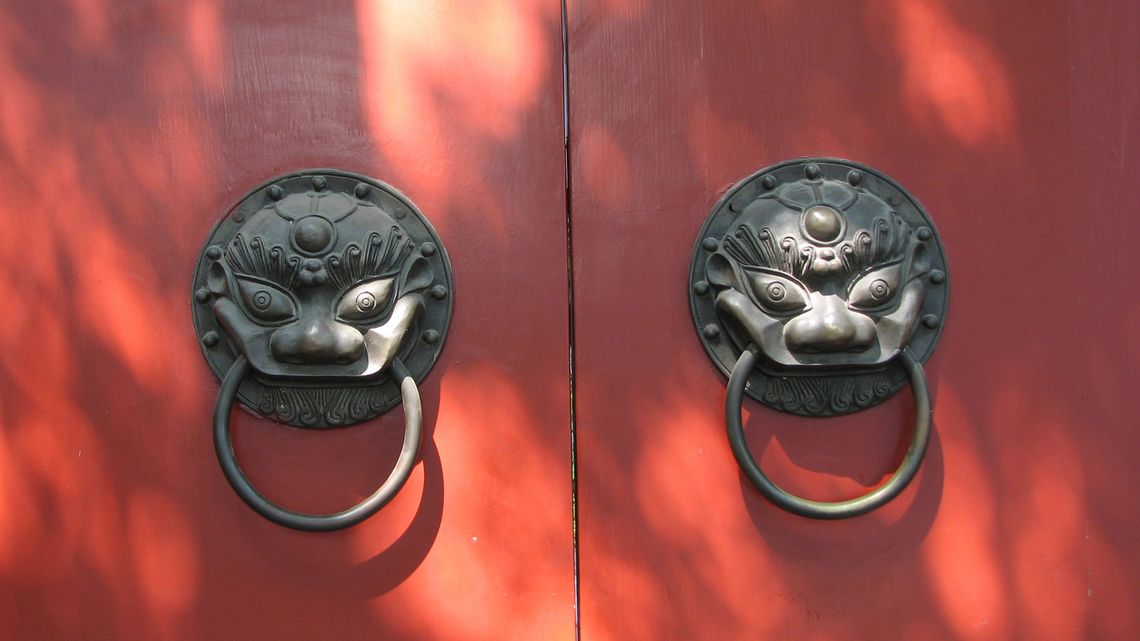 23.01.2020
Living in China, Working in China, Working with Chinese Business Partners: 35 Useful Links
If you are moving to China or working with Chinese business partners, it's a good idea to get to know Chinese culture both inside and outside the workplace.
In this post, we have collected what we think are the most useful and up-to-date online resources, both for living and working in China and for succeeding in your collaboration with Chinese colleagues or business partners wherever you are based.
The links cover Chinese culture, life as an expat in China and doing business in China, and include resources for expat partners and kids, learning Chinese and area-specific resources. At the end of the post, we've also included a small section of resources specifically for Danes working in or with China.
This blog post is the first in a series of two. If you want more inspiration, make sure to take a look at the second blog post of this series, where you'll find an intro to the most useful apps and WeChat resources for working in or with China.
The two blog posts were written by Annette Dahl, C3's CEO and chief trainer, who has trained hundreds of executives, employees, and expat families for working with or in China, Maria Pastorelli, a Shanghai-based C3 trainer and China Country Specialist, and Rasmus Sehested Thormann, MA student in China studies.
---
News
News from China in English
China Daily was the first English-language newspaper in China, and today the newspaper still provides English-speaking readers with news from China. It's a good starting point if you are looking for news with a Chinese perspective.
http://global.chinadaily.com.cn/china
Happening on Chinese Social Media
In China, social media are getting massive popularity, even more so than in Denmark and other Western countries. One of the most popular social media platforms is Weibo, often called "The Chinese Twitter". If you are interested in what's going on in the Chinese social media world, What's on Weibo is a great source for giving you a peek into the almost exclusively Chinese-language social media platform.
International China News
Many international news media cover China, and one of the best is BBC. They have a whole separate section focusing on China – a great resource for getting international news on China.
https://www.bbc.com/news/world/asia/china
Alternative News on China
Hot topics and buzzwords are usually getting the attention in most news media, and therefore Sixth Tone has decided to report stories that go beyond the usually reported topics from China. Follow Sixth Tone to get insights in the lives of the more common people of China.
---
Culture and History
Everything about Chinese Culture
China Sage is an extremely thorough source to all parts of Chinese culture, society and much more. For instance, if you want to know more about Chinese geography, if you seek an overview of Chinese festivals or if you try to understand the political system in China, China Sage can be a great help.
Overview of Chinese History
Condensed China is your go-to source for getting a quick overview of Chinese history. It's important to stress that this is an overview – several thousand years of history is quite a mouthful, but Condensed China does a great job in providing you with a quick tour through the most important events and periods in Chinese history.
China Cultural News
To keep you up-to-date with China's cultural scene, check out Chinaculture.org, the official source for cultural news on China.
---
Language
Learn Chinese with Podcasts
Calling all podcast-lovers! ChinesePod is the absolute best podcast-series out there for people who want to learn and practice Chinese (and they have an app, so you can bring the language-learning with you on the move). ChinesePod offers massive amounts of podcasts for all who want to learn Chinese – beginners as well as experts. They have a trial version, but after the trial you will have to pay for a subscription. However, we strongly recommend you do so, as it is money well spent!
Translate Chinese Texts
If you want to read Chinese without spending time on learning the Chinese characters, Wenlin can be a great help. Simply paste the Chinese text you want to read into Wenlin, place the cursor on a Chinese character, and the English translation of that character will appear. Wenlin has a free edition available.
---
Life as an Expat in China
Moving to China
Moving to China can be a challenge, and even though there is plenty of information available online, it can be quite a hassle to find the relevant information for you in the jungle of guides, blogs and websites. Career China has put together a guide that covers most aspects of moving to China, and if you want to prepare before moving, this guide can be a great starting point.
https://www.careerchina.com/blog/The-Ultimate-Guide-for-Moving-to-China
Bringing Your Baby to China
For many expat families, bringing a baby to China can seem like a big headache. Luckily, The Good Schools Guide in this article covers anything from getting around, shopping for food to getting settled with your baby.
https://www.goodschoolsguide.co.uk/international/china/beijing/bringing-your-expat-baby-to-china
Expat and Travel Community
Lost Laowai (Laowai is Chinese slang for "foreigner") is an essential platform for your life as an expat in China. Apart from guides for practical stuff, Lost Laowai also provides you with city guides, travelling advice and even Chinese recipes and tips on Chinese language learning.
Meet up with Other Expats
Meeting other expats can be a good way to get settled in a new country. Meetup is a platform for organizing meetups with other like-minded people. Whether you like board games, playing badminton or just want to go out, Meetup will probably have a group for you.
Travelling in China
For useful travel advice, area guides and tour planning, check out China Highlights' Travel Guide.
https://www.chinahighlights.com/travelguide/
---
Doing Business in China
Ultimate Checklist for Business Trips in China
If you are going on a business trip to China (or if you are working in China) we really recommend reading this guide by Sino Step, as it covers many aspects of doing business in China, such as establishing effective business relationships and advice on how to behave at business dinners.
https://sinostep.com/essential-things-to-know-before-you-visit-china/
Business Updates
A good way to keep you up-to-date on legal, tax and operational issues is to follow China Briefing, a media publication on China business intelligence.
https://www.china-briefing.com/
Communicating with Chinese Business Partners
We don't mean to brag, but a few years ago, we wrote a pretty good blog post with a few recommendations on how to best communicate with your Chinese business partners. Check it out below!
https://c3consulting.dk/en/news-and-resources/blog/blog-issue/art-265
---
For Expat Partners
How to Find a Job in China
If you are moving to China because of your partner's job, you might want to start a new career yourself in the new surroundings. Laowai Career is a useful blog that can help you in your job hunting, especially their section on Career Advice.
https://www.laowaicareer.com/blog/
Job Postings for Expats in China
Job searching in China? Check out eChinacities Jobs, a platform for expat job postings and job searching in China.
https://jobs.echinacities.com/
---
Kids
Learn about China
Moving to China is, needless to say, a big shift in the life of a child. One of the challenges can be understanding the new culture, and here National Geographic for kids can be really helpful. They have a country profile on China with loads of general country information put together in a manageable manner:
https://kids.nationalgeographic.com/explore/countries/china/
Also check out this page with 30 fun facts on China for kids:
https://www.natgeokids.com/uk/discover/geography/countries/30-cool-facts-about-china/
China Family Adventure
The China Family Adventure website is a great help for families moving to China. Apart from having a vast scope of guides on travelling with kids in China, they also have numerous informative articles on Chinese culture and traditions.
https://www.china-family-adventure.com/
Dig Mandarin
If you and your kid are ready to take the next step in learning about China and its culture, learning the Chinese language is something that can really pay off in the long run. Dig Mandarin is a great source for language learning for children and for parents wanting to help their kids learn Chinese.
https://www.digmandarin.com/learn-chinese-for-kids
---
VPN
VPN Guidance
Getting a VPN is the inevitable reality for the majority of expats in China, as websites like Facebook, Google and Twitter are blocked in China. However, finding the right VPN can be quite demanding, but VPNDada can provide some assistance. VPNDada is focusing on VPNs in China and have signed up with a large number of VPN providers in order to test them for you. Follow their recommendations, and you will not be lost in the dense VPN-jungle.
Which VPN?
If we were to pick only one VPN for use in China, ExpressVPN would be our choice. ExpressVPN has been listed among the best VPNs for China by many reviewers (including VPNDada), and is a reliable provider of a stable VPN-connection.
---
Shanghai
Happening in Shanghai
Knowing what to do and where to go in a massive city like Shanghai can take up quite a bit of time. SmartShanghai is a media publication for Shanghai residents, and they have a great website with loads of restaurant recommendations, articles, deals, job postings, rental listings for housing and much more.
Community in Shanghai
Establishing a network is an important step of moving to Shanghai, and the first step for many is getting acquainted with the Community Center Shanghai. The center offers services divided in the four categories Counselling, Classes, Charity and Events, and is a safe platform for many expats in Shanghai.
https://www.communitycentershanghai.com/
Women's Community
International Professional Women's Society (IPWS) is another great networking platform for expats in China, specifically for expat women. IPWS is first and foremost a platform for different types of networking events, and if you become a member, you will get access to their members-only events.
---
Beijing
Happening in Beijing
What SmartShanghai is to Shanghai, The Beijinger is to Beijing. A long list of upcoming events, informative blog posts and helpful visitor's guides are just a small part of what The Beijinger has to offer!
Various Beijing Resources
The Beijing Page is an online directory with a vast scope of online resources on Beijing.
http://www.beijingpage.com/index.html
Networking for Professional Women in Beijing
Viva Beijing Professional Women's Network is a member-based networking organization for professional women in Beijing. They organize various events and also have a mentor program.
---
Suzhou
Happening in Suzhou
Find out what's going on in the city and stay updated with news on Suzhou.
https://www.thatsmags.com/suzhou
City Guides
Suzhou Tourism provides high-quality city guides to Suzhou. Read about the history of Suzhou and its sights, discover the Suzhou cuisine or get information on public transport in the city.
https://www.traveltosuzhou.com/
---
Specifically for Danes
Consular Services
Probably the most important website for any Danish expat living in China (and probably no need for further introduction): the homepage of The Embassy of Denmark in China.
Danish Communities in China
DCCC (Danish-Chinese Chamber of Commerce) has put together a useful list on different Danish communities in China (mostly Shanghai). Check it out – you will surely find a community that suits your needs.
http://www.dccc-shanghai.com/danish-community/
Danish Information Source on China
Kina-info is a great resource in Danish if you want to learn more on China and its culture.
---
Please share your input!
Did we miss something? If you know of a great online resource for expats in China or for people working with Chinese colleagues or business partners, please share it on LinkedIn or email us at kontakt@c3consulting.dk. We appreciate your input!
Want to get more resources for working with or living in China?
This blog post is the first of a two-part series on resources for expats in China and people working with Chinese colleagues or business partners. In the second blog post, that you can read here, you'll find an intro to the most useful apps and WeChat resources for working in or with China.
Want more inspiration on working and living globally? Sign up for our newsletter here.
Check out our Chinese cultural training programmes
Would you like us to help you strengthen your communication and collaboration with Chinese colleagues and business partners? Read about our Chinese cultural training programmes and workshops here.
Is your company relocating an employee to China – or will you and your family soon be living and working there? Read about our Chinese cultural training for international assignees and families.
Contact us here for a chat about how we can address your Chinese cultural training needs.